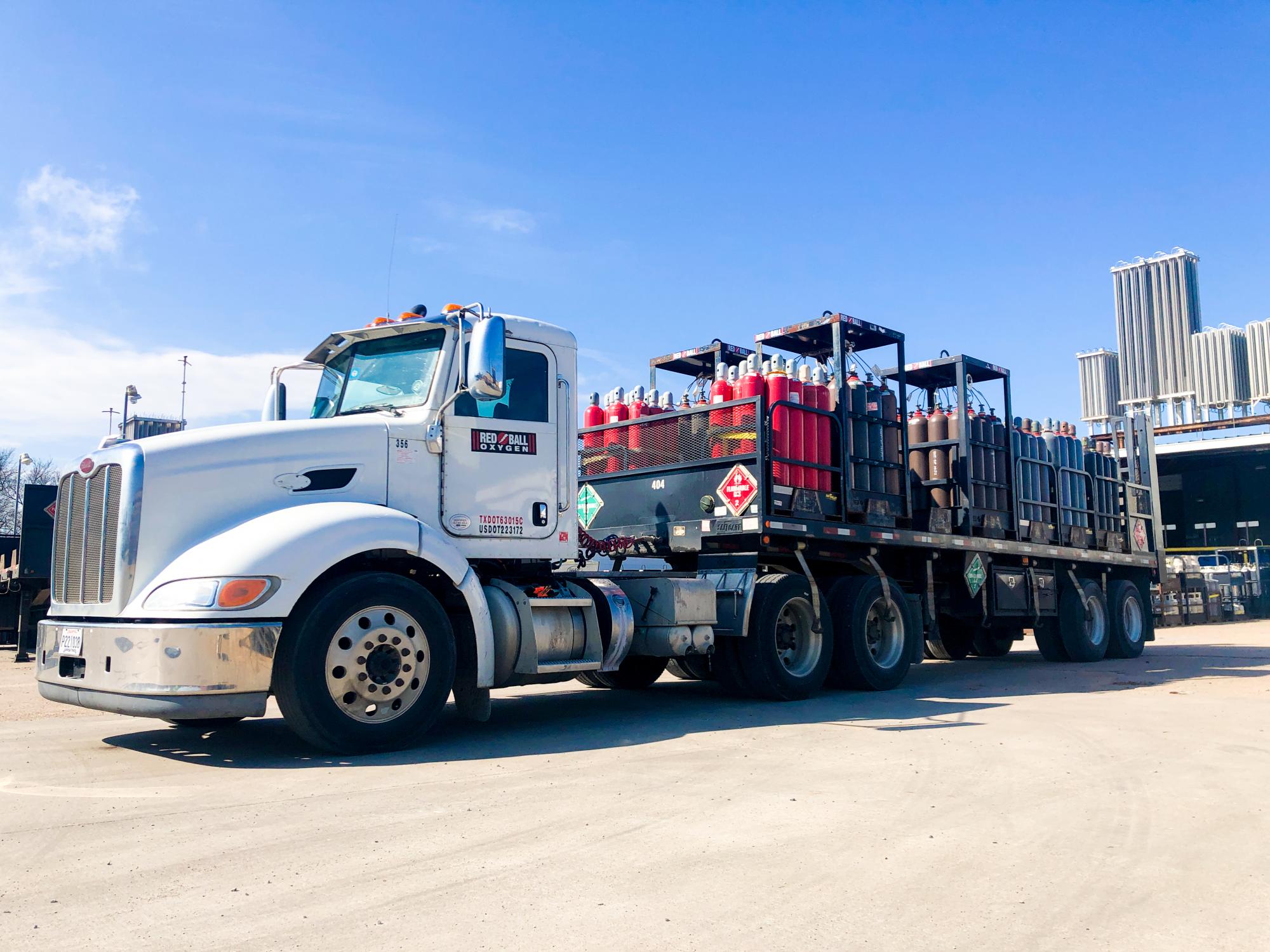 SUPPLYING YOUR BUSINESS. FUELING YOUR SUCCESS.
Regional
Powerhouse
Red Ball Oxygen is a premier supplier of industrial gases, specialty gases, and welding equipment. Founded in Shreveport, LA, in 1930, we have expanded to supply a four-state area with 21 customer service locations and four state-of-the-art cylinder fill plants. Our two specialty gas labs serve customers nationally and internationally with high-quality certified gas blends.
Family Owned —
Customer Focused
Red Ball Oxygen has been under the ownership of the Kennedy family since Craig Kennedy purchased the business in 1969. We are an open-books, profit-sharing company that values employee growth and shared success. Our team is dedicated to providing you with a level of responsiveness that you won't find with our larger corporate competitors. We believe in personalized attention and taking the time to understand your needs and concerns. You can trust us to go above and beyond to ensure your satisfaction with our services.
Committed to
Quality
The term Red Ball originated in the railroad industry during the late 19th century. When a shipment was designated as a "Red Ball," it meant that it had high priority and needed to be delivered quickly and efficiently. The phrase was immortalized by the "Red Ball Express" of World War II, who overcame severe logistical challenges to transport critical supplies from the ports of Normandy to the frontline troops.

We take the legacy of our namesake seriously. We understand that timely and accurate delivery is crucial to your success, which is why we strive to ensure that your orders are delivered on time—and filled completely and accurately—every time. We call it The Perfect Order, and we hold three ISO accreditations attesting to our track record of consistent performance.
Robust

Capabilities

We love partnering with customers to solve challenging problems. Whether it's technical welding support, fabrication automation, helium supply, carbon-dioxide sourcing, bulk hydrogen distribution, unique gas applications, or highly specialized gas blends, you'll find that we have locally available resources to meet your needs.
Meet
Our Team
Alex Kennedy
CEO
Alex.kennedy@redballoxygen.com
Bob Ewing
President
Bob.ewing@redballoxygen.com
Clay Erwin
CFO
Clay.erwin@redballoxygen.com
Nick Brown
Vice President of Operations
Nick.brown@redballoxygen.com
Mark Patten
Vice President Of Technical Gas Services
Mark.patten@redballtgs.com
Marty Jones
Regional Vice President, Louisiana, Arkansas, Oklahoma
Marty.jones@redballoxygen.com
Jonathan Hartner
Regional Sales Manager, Gulf Coast
Jonathan.hartner@redballoxygen.com
David Riddle
Regional Sales Manager, North Texas
David.riddle@redballoxygen.com
Quinn Kennedy
Business Development Manager
Quinn.kennedy@redballoxygen.com
Krysta Cyr
Human Resources Director
Krysta.cyr@redballoxygen.com
Makayla Duke
Purchasing Manager
Makayla.duke@redballoxygen.com
Mike Farris
Business Development Manager, Technical Gas Services
Mike.farris@redballtgs.com